ONO Cleo
After a hard day, a soak in the tub or long, steamy shower is one of the best and easiest ways to relax, and whether you prefer a deep, soothing muscle massage or an intense self love session to help drain away tension, Cleo is the vibe for you. Ingeniously designed with sensual curves, the fully waterproof Cleo, no matter how you use her, perfectly cups the contours of the body, fully surrounding your stressed shoulder and back muscles and offering full coverage of your intimate areas, too.
Atop a wide base, the silky silicone vibrator is positioned- the shape is similar to some well known clitoral vibes, boasting a curvy, angled oval that's upturned subtly at the tip. Once you've positioned Cleo where she'll do the most good- and positioning is easy as pie thanks to an ultra sturdy removable suction cup that attaches to the smooth underside of the base and then to a flat surface like the wall of your tub- you can start up an impressive 8 modes of vibration that combine steady vibes with pulsation and escalation. Make no mistake, this is no novelty, for-looks-only type toy, Cleo has power to spare, and you'll adore how easy it is to switch up the whisper-quiet intensity and modes for a unique sensation each time. A simple interface is built into the ONO logo, a plus symbol starts up the vibrations. To cycle through the modes, just turn up the intensity to max, then hold the + for a second to find yourself at the first pulsating variation- press again to keep going.
Aside from gorgeous looks, very impressive functionality and a discreetly muffled motor, Cleo is made from a high end silicone material which, as any connoisseur knows, is as good as it gets. Silicone is completely body safe, hypoallergenic, and nonporous, making it incomparably hygienic and skin friendly, plus, silicone has an unbeatably silky touch that warms naturally with use and gets deliciously slick with the addition of lube. Use a good water based lubricant if needed to keep this vibe at her best. Takes 3 AA batteries (not included). Waterproof.
The Cleo Bath Body Massager is among the cutest and most desirable of bathroom companions, with vibrant colors, silky smooth curves, and a soft fully-waterproof silicone skin. Beyond the good looks, however, Cleo hides a powerful, virtually-silent motor capable of delivering 8 different vibration modes. A suction cup at the base can also be attached to any flat surface, for added versatility and ease of use. Available in Dark Pink, Purple and Orange. Batteries not included.
Founded in Switzerland in 2009, ONO Pleasure prides itself in designing and manufacturing high-quality Bath Body massagers, Massage Oils, Massage Candles and Lubricants.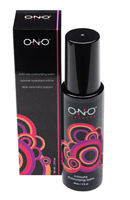 ONO Moisturizing Balm
ONO's intimate moisturizing balm is a glycerin-free, paraben-free, and fragrance free water-based lubricant. The non-staining and non-greasy formula is fortified with aloe vera and gives long lasting and safe moisturizing to your intimate areas when you want it most. This moisturizing balm is safe and suitable for use with the entire range of ONO products.